My middle child, Mattie, received a magic kit for Christmas. It's awesome. It has all these little trinkets that create wonder and inquisition for her, and in theory- her audience. I just love watching her perform- she's a real drama queen- so no show is without its large scale production.
At one point during the first of such shows, I could clearly tell she was struggling- as in the ball was not exactly disappearing. To her credit- she just kept trying and trying, all while wearing her best smile and convincing me something amazing was about to happen.
Well, it didn't.
I then decided to ask her, "Mattie, did you read the directions that came with the kit?" ( I'm a huge direction person- I'd like to think it goes hand in hand with my obviously HUGE sense of humility that I really don't know much…)
She quickly responded with a very confident, "No."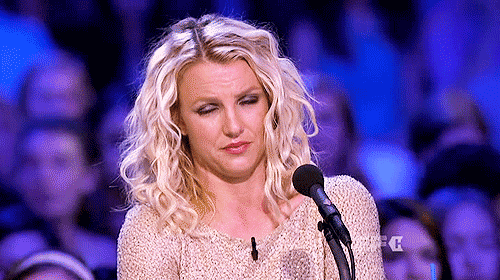 Okaaaaaay.
There was about another 5 more minutes that she struggled – and throughout that time, I got to see the ins and outs of the actual trick. So, when it came time for the BIG reveal- I smiled back at her and allowed myself to fall fully into her theatrical and magical debut. I was marveling at how she, too, was falling fully into her acting, believing 100% that she had unleashed powers beyond imagination.
I love children.
They really do encompass an innocence when it comes to believing. And I was re-reminded of this while watching Mattie and her simple yet constant "one, two, threeee!!!!!" Nothing like a good ol' fashioned magic trick to showcase how easy it used to be and should be to "believe without seeing."
Could it actually be that in my life, I am making things a lot harder than they should be? Harder than they were intended to be?
I pause here for a resounding, "YES!!!" from anyone who knows me.
Let's quickly and very on the surface, evaluate how how I start a typical day over here in crazy town.
I wake up, well, do you actually get to say " wake up" if you never really feel asleep?
For arguments sake, I'll say I wake up-but we all know I haven't slept since the 80's.
No really, this is me at 7 am.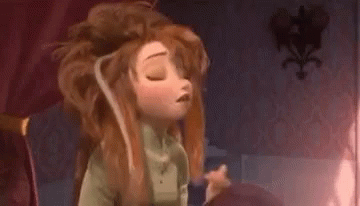 On a good day.
I never have been, nor will ever be, that mom who looks amazing at drop off. I wish I could say I rock a baseball cap and huge sunglasses well, like a celebrity when they go "au-natural" and are trying to be fashionably incognito -but even then- I'm pretty sure the kid's school thinks there's a homeless guy staying with us half the time.
But back to my lack of rest.
I have only recently made a huge mind-blowing connection with the fact that I can't fall asleep or stay asleep with being a control freak. It may sound obvious to you- but I had always associated my insomnia with my creative juices flowing when it was finally quiet.
But, through the second go around of my weekly bible study's book- my mind and heart were opened to what is truly missing in my life. And it's not just a good set of ZZZ's.
Faith.
Trust.
Peace.
Yup- turns out a lack in those babies is a surefire way to the no-snore-zone.
For me.
Why?
Oh, my friends… I'm so glad you asked….
It might be as easy as 1, 2, 3.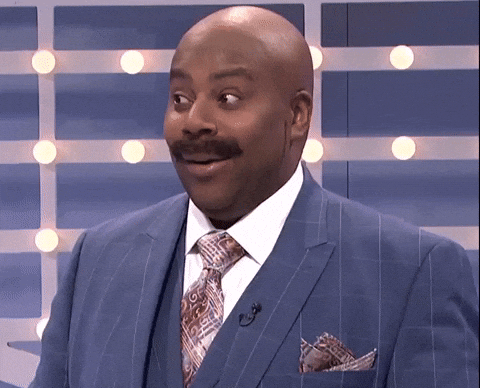 One- It's DONE!
This, my friends, is referring directly to my inability to let go of the past. I hash out the parts of my day- things I've done and said- NOT done and NOT said- ugh, I'm actually exhausted just typing that out. But it's true. 100%. I feel like I'm watching the unedited movie version of my past from the nosebleed cheap seats, and throwing popcorn every time something pops up that makes me embarrassed, confused or want to throw up.
If I would simply have more PEACE in what my day has brought: done and undone- said and unsaid- my head could possibly hit the pillow with a deeper sense of " it is Good." Not PERFECT, but Good. As in, how it should be.
And the reality is- there's not a whole lot that can be changed or solved at 1 am, anyway.
On to Number Two- Go YOU!
I have been attempting to be more present in my life- on a daily basis. With technology and my ever growing addiction to signing up for things and staying busy-it makes it hard to Just Be. And Be HERE. And Be Here NOW.
The phrase Go YOU is also referring to being a cheerleader in people's lives. My closest people. I want to listen, support, aid, guide, teach. But I can't do it all. All the time. I need to put down the pen and clipboard a little more, and revisit my commitments. I want to be the best I can be. At those things. NOW.
And some times the best thing you can do is just Show Up.
On to Number Three- You're FREE!
In case you haven't guessed it- this one relates to the future.
In hindsight and much agonizing reflection, I have come to terms with the fact that THIS part is what I struggle with the most. I DESPERATELY want to know what's coming. I want to be prepared. I want to tweak it and shape it and form it into, well, what I want. I'd prefer to guarantee fewer worries. Fewer failures. For my husband. For my kids. For my friends. For me…
Bare with me as I make a connnection to my age old FAVORITE movie series as a child- Back to the Future.
Now, if you're not going to take MY word for it- that having all the answers and seeing things written on newspapers 10 years ahead does NOT, in fact, bring peace, happiness and joy- than take it from Doc Brown and Marty McFly.
They're time traveling experts.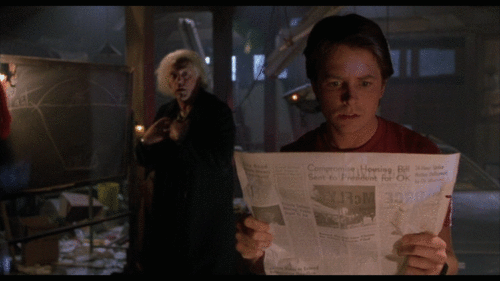 I'm convinced, thanks to these fine gentlemen who dared to dream and create the fluxcapacitor- that if I HAD all the answers, HAD all the things I hoped for, KNEW why and when things were happening… there would not be an increase in peace and joy in my life. Rather it could leave me with MORE questions, MORE wonders, and striving for MORE control.
( reminder- NOTHING good came from that Sports Almanac!!!!)
There simply needs to be MORE Trust.
**************
On the days when I'm finding it especially hard to understand, or Believe without necessarily seeing the writing on the wall… but I really want to…I feel like the little boy in the movie, The Polar Express.
Standing in the North Pole, in the presence of Santa Clause, but unable to actually see his face. Sweet bells are ringing all around, and yet he is also deaf to their harmony. He spies a lost bell, fallen by his bedslipper, picks it up and rings it. Only to hear nothing.
He sees the others rejoicing, singing, experiencing -sure of it all.
He wants to trust that its there.
Mustering up all his credence, he firmly closes his eyes and mutters slowly, "okay…okay…" Followed by, "I believe…I believe…I…BELIEVE."
He shakes the bell again, assuredly releasing its sweet victorious sound.
JOY.
And as the book states in its beautiful last line, "as it does for all who truly believe."
*****************
When I hand up my future,
I am Free.
Free from fear.
Free from perfection.
Free from knowing it all.
Free from holding it all.
Free to experience the sights and sounds of peace and joy.
One step at a time.
One day at a time.
And now I'm Free to rest.
So, my sweet friends- could it, should it, be that easy?
Life isn't exactly like a child's beginner magic set.
But, as I tuck my children in to bed at night- and watch them calm and cozy, not a worry in the world; happy with the day behind them and excited for what's up ahead next… is there any harm in having a little more faith and believing like a child?
Confidence- in my past. (1)
Assurance -in my future. (3)
Seems like the only thing left to do is to go live my life.
And live it well! (2)
Let's do this :O)
**************************
God Help Me
by Plumb
There is a wrestling in my heart and my mind
A disturbance and a tension I cannot seem to drive
And if I'm honest, there's quite a bit of fear
To sit here in this silence and really hear You
What will you ask of me?
Will I listen to your voice when you speak?
Help me to move
Help me to see
Help me to do whatever you would ask of me
Help me to go
God help me to stayI'm feeling so alone here
And I know that You're faithful but I can barely breathe
God help me
Sometimes things, they are black and white
Sometimes they are not and it leaves us torn inside
And in the middle we are left to wonder
Who we are, what You want and where we're going
Oh such a mystery
I don't always understand
But I believe
Help me to move
Help me to see
Help me to do whatever you would ask of me
Help me to go
God help me to stay
I'm feeling so alone here
And I know that You're faithful but I can barely breathe
God help me
I don't know the future
It's one day at a time
But I know I'll be okay with Your hand holding mine
So take all my resistance
Oh God I need Your grace
One step and then the other show me the way
Show me the way
Help me to move
Help me to see
Help me to do whatever you would ask of me
Help me to go
God help me to stay
I'm feeling so alone here
And I know that You're faithful but I can barely breathe
Oh God I can barely breathe
Oh I can barely breathe
God help me
Source: LyricFindSongwriters: Tiffany Arbuckle Lee / Christa Wells / Luke SheetsGod Help Me lyrics © Kobalt Music Publishing Ltd., Mike Curb Music