Daylight Savings – some people love it. Others, not so much.
My kids just don't get it. Still up at 6- now 5. 😳
I walked upstairs the other morning to see my mom "winding" the dining room grandfather clock. You see, everything either automatically had changed during the night, or we could change it manually to "fall back" to correct the time.
But you CANNOT go backwards in a grandfather clock. You must go forward 11 hours to "go back" one.
It took her the better part of 10 minutes to stop on every 15 minutes to wait & let it chime, then of course, the hour chimes…
She looked quite frustrated.
Interesting that in so many ways, we think that we can control time.
We have DVR: the ability to stop, rewind, fast forward "live" TV.
We have smart phones that can "slow-mo" a regular video.
But meanwhile- life IS happening.
We are so caught up in the daily grind, that we gladly, usually without noticing, fly by through the little things.
In the movie Click, Adam Sandler's overworked, strung-out, working -Dad character is given the chance to control, and ultimately upgrade, his quality ( & quantity) of life through an all-powerful remote.
He, like us all, doubts its ability at first- and then quickly begins to enjoy its fast forwarding, muting, even picture in picture features. He feels like he has been given the chance of a lifetime.
What would you do?
Would you pause the good things?
Rewind to have a "do over" if you said something you shouldn't have?
Or just hit FF through the mundane, sticky situations pounding your daily life- until you have gone through it & find the rest and resolve on the other side?
If you have never seen the movie, I 100% encourage you to view it- and mostly for its eye-opening conclusion. I love things that make you re-think.  And it does.
As I am doing today.
I feel I am incredibly guilty of not always living in the moment. There seems to be so much around that takes my attention away from what really matters.
And I'd really like to make a change.
Remember when you only had 24 exposures in your little dinky camera? My hardest test of selection was on our family trips to the zoo. I'd wrestle a little with which animal was worthy of the click, but then when I was done- I was done. Camera went back into my fashion purse, and I went back to reality. Enjoying the moments.
But now, we have endless amounts of exposures, re-do's, edits, etc to get the PERFECT picture. Depicting the PERFECT moment. But was it? It was the 54th attempt with 20 minutes of editing- not exactly worth bragging about.
In college, I would take my camera with me (I had upgraded from disposable to a Cannon) and I'd snap away, still mindful of the inevitability of an empty roll. But I certainly did not spend the evening hiding behind a screen. I can happily say, I lived it. (It's a perfect sidebar to mention that while I was NOT hidden behind a screen, I was able to see very clearly in front of me. And one fine night, I spotted a perfect Southern gentlemen across the room … and most of you know the ending to that story…)
Back to the pictures :
The next morning, I would walk with my Roommates to the school bookstore, and send the roll off to be developed. It would take almost a whole week! I'd check in through the glass window every day, hoping to see the mailbox container full of envelopes behind the cashier. After a quick scan, charged home, (Thanks, Mom & Dad!) – I'd promptly sit on the steps adjacent to the store and open the envelope, like it was Christmas morning. The moments that followed were hilarious. I'd be lucky to have gotten 4 or 5 "good shots" out of the 24, sometimes 36 exposures. Mostly, I flipped through 4×6 rectangles of fingers in the way, blurry beyond recognition, heads cut off, and possibly floor shots. And sometimes DOUBLES of these photographic flubs. And all paid for. Ha! But I was thrilled, overjoyed, grateful to have 1 photographed "forever" memory from the evening. It was pinned up on my dorm door.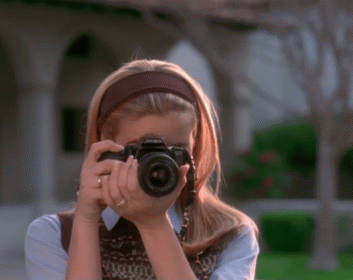 Can I say the same now?
I snap away at every park trip, every ice cream cone eating, every bean bag snuggle, and of course- each, every "firsts" the girls have…because I have deemed them all worthy of documenting, and there's nothing technology can do to stand in the way.
In fact, it's right there- encouraging me:
to take more,
store more,
capture more,
improve and enhance more.
But certainly, not LIVE more. And live for the NOW.
That is something I must decide for myself.
We cannot turn back time.
We have no re-do's.
We do not have a magical all-powerful remote given to us by Christopher Walken.
So, the question is- what will you do with your PRESENT? It is really only here for a fleeting minute.
As you cannot relive the past-nor should you look too far into the future. (How can we all forget the disasters of poor overzealous Michael J Fox in the classic Back to The Future movies?)
In a past attempt to better " center" myself/ find my chi, and create balance in my life, once I ventured into a Yoga class.
Sooo many mirrors.
I was terrible from the beginning. What I learned from that night?
I am incredibly inflexible.
I am even more incredibly distractible. (Did I mention all the mirrors???)
But I did actually maintain a great sense of balance at times…until I looked around and started comparing myself to others.
I have not been a regular Yoga go-er.
But I HAVE made some serious connections between the findings from that night & what I've come to learn about myself today.
I am incredibly inflexible.
I am even more incredibly distractible.
I DO actually have a great sense of balance at times…until I look around and start comparing myself to others.
My goal?
To ease up, learn to stretch a little with things that initially feel uncomfortable, and to stay FOCUSED on what's important. Amidst distraction! And live MY life.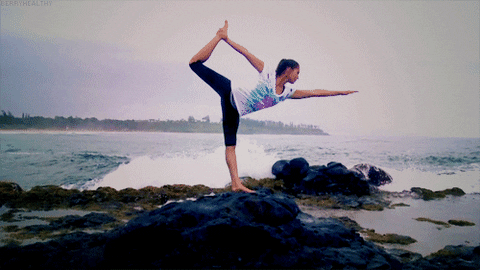 I think it's possible. I know it is.
I'm going to stay positive and strive towards these goals.
Won't you join me?
There's no time like the present.
BONUS: Mini Christmas ornament tree canvas
I used a canvas ( from a set of 6 from the craft store), and 3 sets of 12 count mini ornaments. There were a couple sizes to choose from- I chose the middle size.
I set them out on the canvas in a tree shape, and did my best to arrange them without matching colors around.
I used my glue gun, and secured each one. ( You could also use glue dots.)
Topped it off with a cute little shiny paper bow, and voila! It can be hung on the wall, or on a door! Slightly obsessed. But I can't get too attached. This one is off to the upcoming craft fair. I'll make another in possibly a gold theme…Enjoy!